So here's my latest dessert addictions,
My good friend introduced me to this Hong Kong treat made at good ole Frostcity here in the 808. It's pretty good stuff. The dessert is called Snow Ice and it's a hybrid of shave ice (as we call it here) and icecream. Snow Ice is made from real fruit, is pretty light, not super heavy, and along with this pile of shaven iced goodness, there's a small side of these lil pom pom flavored bursty thingys, these tiny star shaped fruit, cubed strawberries and cubed mochi. Oh man, it's the thing to eat on a hot day. There's over 15 flavors to choose from, and depending on which flavor you get, it can vary anywhere from $5-$10. I just had my fair share of it recently and I could go for another round.
Mango and Strawberry...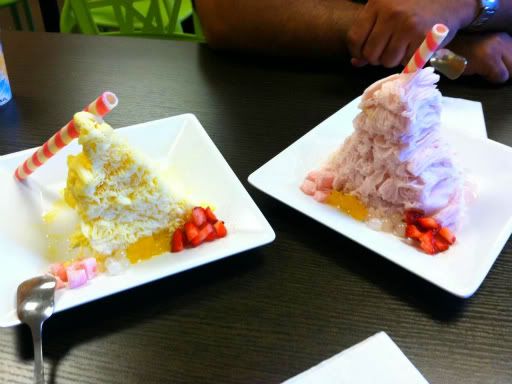 Lychee and Rasberry and Milk combo...